ONBOARD ADVERTISING SALES COORDINATOR
147654
Corporate Affairs
Nadi
,
Western
April 1, 2019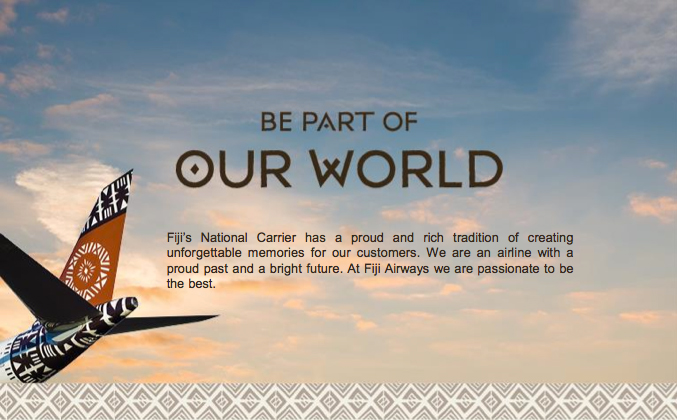 ONBOARD ADVERTISING SALES COORDINATOR
An exciting new position is available with a newly-formed team within the Corporate Affairs Department of Fiji Airways. The Onboard Advertising Sales Coordinator is responsible for devising and implementing advertising opportunities that sells Fiji Airways prime onboard media space, which includes the inflight magazine, inflight entertainment system, Premier Lounge and boarding passes, to clients.
This role actively identifies potential clients and searches for innovative methods to streamline processes and deliver superior results for customers and Fiji Airways. This position will be based in Nadi & will report to the Manager Public Relations.
KEY RESPONSIBILITIES
You will be responsible for the entire on-board advertising sales process from sourcing the leads to negotiating and closing deals;

Build and maintain long lasting working relationships with clients through regular telephone calls, face to face meetings and networking events. This includes sourcing leads regularly and acquiring new business from clients across multiple industries;

Collaborates with the PR team to develop on-board advertising strategy and pitches and unique campaigns;

Creates innovative ways to win and grow existing business;

Understands and takes action to fulfil the clients' needs, proposing solutions, handling objections & closing sales;

You will manage and maintain client database with accurate and detailed rate agreements and contacts;

Carry out additional duties or special projects as and when delegated by Manager Public Relations.
QUALIFICATIONS & EXPERIENCE
A Diploma Level qualification (Business, Management, Marketing, or Journalism) is required for this role;

Have had experience in a similar role;

To be successful in this field a good deal of initiative and drive is required in order to find and secure new clients and business;

Must be able to multi-task in a high paced environment;

Candidates must also be computer literate, and have strong communication and organizational skills;

Persuasive ability, confidence and the ability to build and maintain relationships with customers is key.
We require applicants to have the right to work in Fiji.