CREATIVE DESIGNER
147655
Corporate Affairs
Nadi
,
Western
April 1, 2019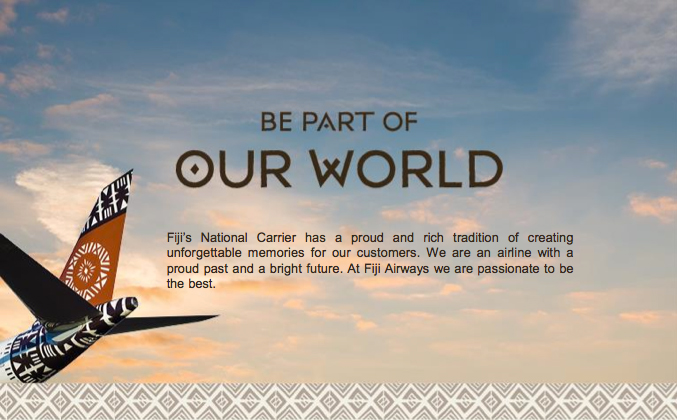 An exciting new position is available with a newly-formed team within the Corporate Affairs Department of Fiji Airways. The Creative Designer is responsible for the layout of Fiji Airways inflight magazine. You will design the look and feel of the magazine and collaborate with key stakeholders to innovate and create experiences that engage audienes, while achieving Fiji Airways goals. The Creative Designer will also assist to fulfill creative requirements of the wider Corporate Affairs Department.
This position will be based in Nadi & will report to Manager Public Relations.
Exercise creativity and speed in the layout and design process for the different magazine cycles;

You will develop and execute creative concepts for Fiji Airways inflight magazine, a quarterly published award winning publication;

Partners and collaborates continuously with magazine editor to establish, review and execute all aspects of the creative vision;

Respond quickly to turnaround deadlines and ensures that deadlines are met;

Possesses quality photography and photo-editing skills for use in the in-flight magazine and other Department requirements as directed by the Manager Public Relations;

Maintains consistency to the overall publication look and feel, while supporting the Fiji Airways brand;

Accomplishes page layout and artistic enhancement to the entire magazine;

Undertake edits and changes as needed to ensure successful and on-time publication completion;

Coordinates with the production team and printer to facilitate all aspects of print planning, file preparation, printing and management of file;

Participates in collaborative design exchange to brainstorm ideas and share feedback;

Work with Creative Services team members;

Provides design assistance for any other duties as assigned by Manager Public Relations or EGM.
QUALIFICATIONS & EXPERIENCE
Diploma in Graphic Design or a related discipline;

Have had a minimum of 2 years of Graphic Design experience;

A great portfolio that reflects conceptual thinking and production skills;

Proficiency in Adobe Creative Cloud (Photoshop, Illustrator) and Microsoft Office;

Knowledge of layouts, graphics fundamentals and typography;

Ability to manage multiple projects in a fast-faced environment under tight deadlines;

Committed to achieving identified goals through effective communication, collaboration and cooperation;

Positive attitude and excellent organisational skills.
We require applicants to have the right to work in Fiji.