MANAGER CARGO SALES
148733
Sales and Marketing
Nadi
,
Western
August 7, 2019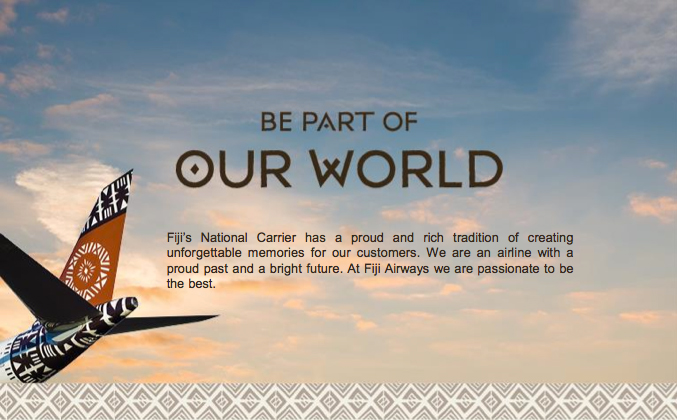 Are you ready for the next step in your Career? We are looking to recruit a Manager Cargo Sales to join our dynamic Sales Team. Key focus will be on increasing revenue, through acquisition, development and maintenance of Fiji Airway's cargo key accounts as well as responsibility for promoting and selling Cargo Services to generate new business and revenue in Fiji and the Pacific Region. The Manager Cargo Sales will sell the entire portfolio of Fiji Airways' Cargo services, and will leverage their relationship and management skills to ensure excellent service to our customers. The position is based in Nadi and will require occasional travel.
Maximise revenue opportunities using Fiji Airways;

Prepares, monitors and controls budget to ensure compliance with set targets;

Maximise yield on air cargo carriage;

Plan and organize to achieve optimum sales productivity;

Be responsible for creating, building, and maintaining customer relationships and customer profitability on all levels;

Guide commercial strategies and execute aligned tactics with Fiji Airways' Cargo Sales Team;

Identify new business prospects and target other account acquisitions on a daily basis;

Works with the Chief Commercial Officer and GM Global Cargo Sales to develop and implement Sales, Marketing and Advertising strategies;

Liaise with internal contacts to resolve service issues and remove barriers to sales;

Create and conceptualize ideas; and bring to market new initiatives to drive sales;

Work closely with internal Sales Team to deliver the key regional commercial initiatives via relationship management, direct sales propositions and marketing campaigns;

Generate management reports for performance evaluation;

Implements customer service procedures to ensure customer satisfaction;

Determine individual tactics to ensure strong market penetration and yield enhancement.
QUALIFICATIONS & EXPERIENCE
Tertiary qualification, in Commerce or other business related fields;

Have experience in Cargo Sales and leading/managing a team;

Proven track record of account management and experienced at negotiating contracts;

Computer literate with proficiency in MS Excel, Word, Outlook, Customer Relationship Management (CRM) software and cargo management systems; and have strong research capabilities and familiarity with all available Internet and database tools;

Strong customer orientation, capable of generating respect among customers of all size in all of the relevant markets and cultures;

Proven leadership and management skills;

Good sense of airfreight market situation;

Excellent interpersonal skills and a team player.
We require applicants to have the right to work in Fiji